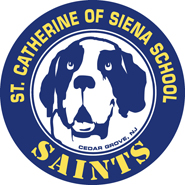 Show your SCS Pride!
Take this Saint for a ride.

SCS has been the home of the "Saints" since 1958.
This custom designed SCS Saint car magnet is done in SCS
blue and gold and ready for display on your family vehicle(s).
Magnets are $6.00 or $5.00 each for two or more.
Simply send in an envelope marked "car magnet" with your name, number of magnets, and cash or check made out to St. Catherine of Siena School. Magnets will be sent home in the backpack.
Information | Application | Tuition | Forms | Contact Us