What we do well!
• Developing the Whole Person...
• Positive Catholic Identity...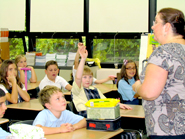 Parent Testimonials:
"Teachers are exceptional. You all make my children feel safe, secure, and provide an excellent Catholic foundation.""Educational & religious programs are above and beyond our expectations. Our son did well for this school year. He especially likes Extreme Thinking."

"You have high expectations for all students and in a nurturing way you guide them along to attain their highest potential."

"We are very happy at St. Catherine's. Our children get the best education in a loving, caring environment."

"St Catherine's computer system is very good. Discipline with students well displayed. Students treat each other with respect."

"St. Catherine of Siena School is warm and caring. The public speaking program is great! Our principal knows all my children by name. The school is filled with dedicated teachers."

"What does SCS do well? –A lot! Morals, character, values, religion –building faith. St. Catherine of Siena School provides a warm, nurturing environment where every child is treated as a special gift from God."

Source: SCS Parent/Guardian Survey
Outstanding Teaching Staff
Mrs. Carol Scalo - Exemplary Teacher Award
(Mrs. Carol Scalo currently teaches Grades 6,7,8 Science and Science Lab along with Homeroom Grade 7, and Grade 7 Religion, Social Studies, Spelling)

"The Lynch School of Education at Boston College has, as part of its mission, "to enhance the human condition, to expand the human imagination, and to make the world more just." What could be more fitting than to ask seniors to nominate teachers and counselors who have exemplified the spirit of that mission? On behalf behalf of the Undergratuate Senate, I am pleased to inform you that Bryan Ramos has nominated Mrs. Carol Scalo for our Exemplary Teacher Award. Congratulations for inspiring Bryan and countless others!" -Robyn Antonucci, LSOE Senate Chairperson
"Mrs. Carol Scalo ... is the epitome of what it means to love teaching, to have your enthusiasm be infectious and to go above and beyond for your students." -Bryan Ramos
Alumni Testimonial
Lindsay Duran
Alumni '05

It is with pleasure and pride that I write to inform you that I have graduated from Lacordaire Academy and am headed for Smith College, where I will study engineering. I had some great colleges to choose from, including Stevens Institute of Technology, NYU, Worcester Polytechnic Institute, Lafayette College, Wheaton College and Clarkson University, but after visiting each and every school, I settled on Smith College. Each school had its strong points, but the innovative curriculum at Smith, the generous financial package, along with a beautiful campus that had the right feel, cinched my decision.
In April, after deciding on Smith College, I was notified that I had been chosen as a 2009 Gates Millennium Scholar. This is a scholarship awarded, yearly, to 1,000 students (out of 22,000 applicants) by Bill and Melinda Gates of Microsoft. It covers all expenses not covered by scholarships, including books and travel expenses. It will also pay for my master and doctoral studies, should I decide to pursue those degrees. In April, I also found out that I was chosen for a fellowship at Smith through the AEMES Program (Achieving Excellence in Math, Engineering and Science.) Through this program, I will be assigned a faculty mentor and assist in research for which I will be paid biweekly. I feel like one of the luckiest girls in the world.
"It was St. Catherine's that laid the foundation for all my success, both now and in the future." -Linsday Duran '05
Of course, none of this would have been possible without the wonderful education that I received at St. Catherine's. It is there, that I was lucky enough to have teachers who really cared and were dedicated to helping me succeed, despite being classified with learning disabilities. It was St. Catherine's that laid the foundation for all my success, both now and in the future. I will never forget St. Catherine's for all you have done for me.

I hope the teachers in St. Catherine's will always continue to believe in and give a chance to students who may struggle or have learning disabilities. With enough care, extra help, encouragement and a firm belief that each student can reach greatness in his or her own way, anything can happen. When I came to St. Catherine's, I had to be held back in second grade, and the first few years were tough. I couldn't even write legibly, and when the Child Study Team recommended that I do all my work on a computer because of my difficulty in writing, it was Sr. Mary Claire, who insisted that I continue to write. As a result, although my handwriting is far from perfect, I can now write at a normal speed and it is legible. That is just one example, but actually, all along the way, during my years at St. Catherine's, the teachers went the extra mile to help me succeed until I could fly under my own power. Someday, you will probably come across another student like me, who, with enough care and encouragement, might eventually graduate from Yale or Harvard or Smith. You never know. Thank you for believing in me.